How Free Playlist Promotion Changed This Artists Career
Free Playlist Promotion: How an Independent Artist gained 150k Listeners Organically in 3 Months.
We are excited to share one of the many case studies of how playlist promotion and the right targeting can break a record. This is an artist we came across by a simple submission called Tim Gent.
When we first were introduced to Tim Gent by a submission in July of this year, he had already seen previous success in 2016 with his first official single landing on Fresh Finds, United States Viral 50 and Spotify's Patriotic Passion playlist. However, despite his early success, Tim was sitting at only 1,200 monthly listeners when we started working with him. Keep in mind, this was with no help from any playlist promotion companies or paid services – Tim had some great music, and it was time to take it up a notch.
Looking at Tim's recent accolades, we knew this artist had already had what the fans were looking for, and his recent stats on playlist showed that people were enjoying the track, however just not taking that extra step and becoming a fan. For this reason, our music marketing strategy would be focused on fan acquisition AND fan retention (gaining monthly listeners). Tim was the perfect candidate to showcase the raw power behind playlist promotion, so we hit him up and asked if he would like some free playlist promotion….he said yes.
Over the next 3 months, we began working 4 singles focusing on pitching to playlists and curators within our network, who think would be the perfect advocate for the artist.
Let's Let the Music and the Stats Do the Talking
We knew going in with the reach and tools we have to offer, along with Tim Gent's obvious talent, we knew that we would see a good bump in his streaming numbers from the 1,200 monthly listeners he started with, and the results we have seen are staggering. Below are statistics on Tim Gent's current streaming numbers, playlist placement/reach, along with Discover Weekly and Release Radar numbers from the last 28 days, as a result of the heavy playlist placement.
Tim Gent
All statistics below are current as of 10/24/17
Monthly Listeners: 147,340 (currently increasing between 2,000-8,000 per day)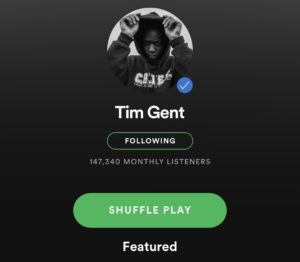 Most Recent Singles:
Mosaic (released 7/26/17): 208,235 streams
1619 (released 9/26/17): 110,015 streams
History Repeats (released 8/22/17): 68,225 streams
Saturation (released 7/17/17): 41,115 streams
As you can see from the release dates, each track has been growing at a rate faster than the previous. This is a result of an effect on the Discover Weeklys and Release Radar placement. The more songs he has thrown into Spotify's algorithm, the better results we see on each new track. How do you get thrown into Spotify's algorithms? Get on more playlists…
Current Playlist Placement & Reach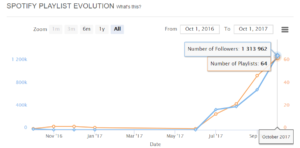 As you can see in the chart above, Tim Gent is currently on 64 playlists, with a total reach of 1,313,962 followers. We have seen this steadily rise throughout the entire campaign. The longer Tim remains on our playlists, the more playlists outside of our network begin picking him up as well. However, the most important benefit of being added to more playlists is increasing the amount of Discover Weekly and Release Radars the specific track is thrown into by Spotify's algorithm. Tim's current statistics on those are below.

Discover Weekly has brought in 58,900 listeners and 92,500 streams, while Release Radar has brought in 39,000 listeners and 52,100 streams. Keep in mind that the vast majority of these listeners are BRAND NEW fans who had never previously heard Tim's music.
To recap, thanks largely to Listd Music's extensive network and connections with outside curators, Tim Gent has gone from 1,200 monthly listeners to 147,000 monthly listeners in a matter of three months, and he is showing no signs of slowing down anytime soon. We fully expect Tim to pass the 500,000 monthly listener mark in the first quarter of 2018 – maybe sooner.
Update: While writing this we have just been informed that Tim has had numerous record deal offers on the table – will keep everyone updated of this in our next post!
Nothing makes us happier than seeing how with the right marketing strategies and targeting across engaged fans – you really can break a record in a costly (this was free) and timely way.
If you are looking to take your music to the next level through by finding engaged listeners that love your music… Simply head over to our submit page or alternatively, hit the big button below.